The SSV encourages all kind of races and types active in sled dog sports. The most well know of the F.C.I. recognized sled dog breeds Alaskan Malamute, Greenland Dog, Samoyed and Siberian Husky. Other typical breeds on the racecourse are the European sled dog, Greyster and Scandinavian Hounds which impress with top speeds of up to 40 km / h.
+ =
On 01.09.2013 the Swiss sled dog sports club was merged (SSV) from the two existing organizations Swiss Musherverband (SMV) and the Swiss Huskies Sports Club (SSC). From two clubs, the largest exclusive club sled dog club in Switzerland was established with the current membership numbers:
• 270 active
• 44 passive
• 9 juniors
• 7 honorary members
Total 330 members
In the first two months of the SSV has a total increase of 14 members. Furthermore, clubs from other parts of the country have made a first contacts regarding a shared future. The new club have among other the objectives that our attractive sport gets a better reputation and that we as largest association in Switzerland will positioning ourselves accordingly in this area.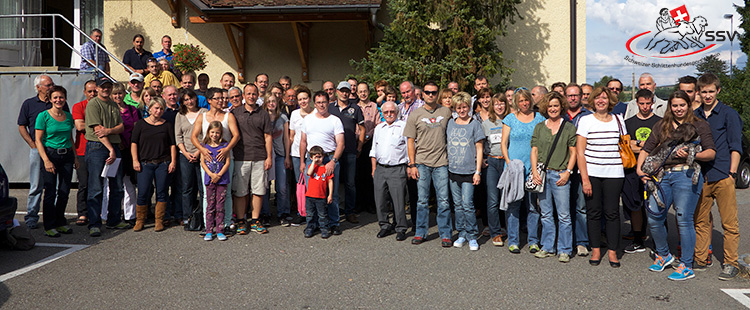 Picture from the founding meeting of the SSV on 01.09.2013 (Photo: P. Rüegg)